With the latest update of Firefox to version 10.0, they included some new developer tools which are similar to what is available via Firebug or WebKit's developer tools.  About time!  Unfortunately, I still am so used to firebug that will continue using it instead of these new native development tools.  One thing that really grinds my gears was the native "Inspect Element" context menu item because it lives directly above the Firebug one.  This was extremely frustrating for me because I kept clicking on that instead of the "Inspect with Firebug" menu item.  This would bring up the native inspector console, which I would then have to close, then go back and right click again and make sure I click on the inspect with firebug menu item.  Sigh…..how annoying.
Anyway, there is a simple way to disable the native inspect element context menu item.  In the Firefox address bar, put "about:config" and press Enter.  This will bring up Firefox's preference configurations.  In the "filter" search box enter "inspector".  This will bring up three configuration preferences.  Simply double click on the "devtools.inspector.enabled" preference to change it to "false" and viola!  No more native inspect element in the context menu!  Horray.
UPDATE:
A recent update to the firebug extension add's config preferences for hiding the default inspector (thanks Ilya).  Now when you filter your config preferences by searching for "inspector", some new firebug config settings appear as well.  Simply set "extensions.firebug.hideDefaultInspector" to "true" in addition to setting "devtools.inspector.enabled" to "false".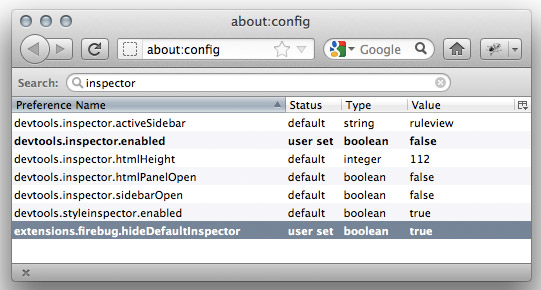 Don't muck around in here too much or you will mess up your firefox configuration.  I hope someone finds this useful =)